"Noir at the Bar" Vancouver-style, is at the Shebeen Whiskey House Nov. 4th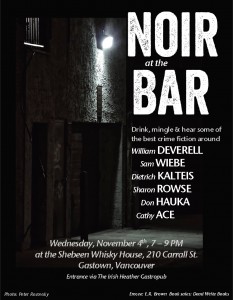 I'll be joining fellow writers William Deverell, Sam Wiebe, Dieter Kalteis, Don Hauka and Cathy Ace for an evening of good mysteries, good whiskey and great fun.
I'll be reading from my latest mystery,  "The Terminal City Murders" — the cover photo for which, BTW, was taken in 1900,  just down the street from where the Shebeen Whiskey House is now.
This Wednesday, November 4th, 7-9 pm at the Shebeen Whiskey House,  210 Carrall Street, Gastown, Vancouver   Entrance via the Irish Heather Gastropub
Come Join Us There!