John Granville and Emily Turner return in The Dockside Murders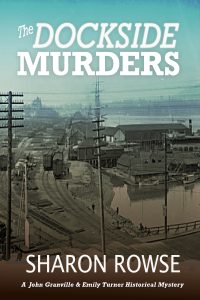 Look for it everywhere
In 1900, sleek steamliners bridged the vast distance between the Far East and North America. On the West Coast, they brought rare goods and news to cities that still held elements of the rough and tumble frontier. Creating a perfect breeding ground for confidence men and smugglers.
A challenge from a lethal gangster pits John Granville and Emily Turner against a shadowy villain who lurks behind the scenes. One who may have pulled invisible strings on their last case.
Unravelling a twisting trail of violence and lies takes them from seedy dockside taverns to the most sizzling social event of the season. West Coast style. Can Granville and Emily unmask the puppet master before he kills them too?
The Dockside Murders is an intriguing historical mystery in a unique setting, with strong characters and just a dash of romance.
This is the seventh book in the historical mystery series featuring John Granville and Emily Turner, and can be read as a stand alone.
Or the Barbara O'Grady Series…
Available everywhere in trade paperback or e-book formats
Don't forget about the  two prequel short stories in the Klondike Era Series…
Available everywhere in trade paperback or e-book formats