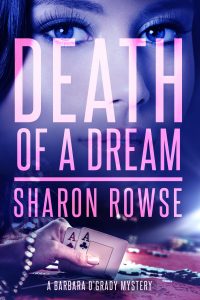 The sixth book in the Barbara O'Grady Series is available  in trade paperback and e-book formats:
After her very successful art show, P. I. Barbara O'Grady returns to her office ready for life to get back to normal—only to discover her assistant has accepted another impossible case. With a client who is possibly Barbara's least favorite person ever.
Hotshot designer Justine Grayson is known as much for her cutting wit as she is for her cutting edge design. And she has a stalker—who threatens to expose her as a fraud. With a life-changing deal on the table, Justine can't afford the bad press.
Then Justine's lead designer is murdered. The police are looking at her as the killer. The stalker's threats are escalating.
And Barbara is chasing a lethal shadow. Can she stop the killer in time?