AVAILABLE NOW!
When Granville commits to finding young Rupert Weston, he faces treachery on a scale he never imagined.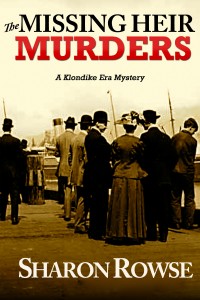 The Missing Heir Murders
A Klondike Era Mystery
In ebook and print editions
Buy It Now
Read first two chapters
BARBARA O'GRADY'S WORLD EXPANDS…
Check out Book Four in the series, A SHADOWED DEATH, as Barbara gets herself into still more trouble… 
Now available in Trade Paperback and all eBook formats: here
THE LOST MINE MURDERS IS HERE!
The sequel to The Silk Train Murder
Available in Trade Paperback and all eBook formats: here
THE SILK TRAIN MURDER RE-RELEASED…
ARTHUR ELLIS AWARD FINALIST – BEST FIRST NOVEL
"An impressive debut"  – Booklist starred review
"Talk about a big, bubbling stewpot of a book!" – Mystery Scene Magazine
"One of Canada's newest mystery writers to watch." – Quill & Quire starred review
"This book is a lot of fun…" – Globe and Mail

Available in Trade Paperback and in all eBook formats: here